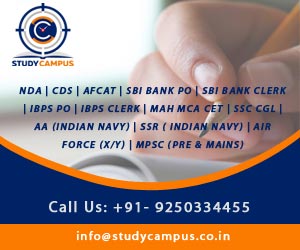 Welcome to Study Campus, the leading institution of learning that ensures accountability of relevant education transferred to the candidates looking to explore the real-time career opportunities offered by Indian Navy. We offer SSR coaching classes in Mumbai and guide the students throughout their career move onto the way to join one of the most prestigious government organizations, i.e. Indian Navy.
Our coaching tutorial are molded with the effective study material and guided under the strict and experienced supervision of our expert faculties. We provide the students with the interactive learning platform that will wipe out all the doubts of the student's countering the study and exam pattern.
What we offer:
We offer a wide learning prospect to the students countering their need to crack the exam.
We offer a strategically designed classroom program to the students that will make them confident enough to beat the extreme pressure of the final exam.
We make the students practice more and more to ensure increasing rates of success.
How to apply?
SSR (Senior Secondary Recruits) is the job profile offered under the Indian Navy that delivers a challenging career move to the aspiring candidates. The exam of SSR requires attentive mind and a physically fit body that can entail into the selection of the candidate done. To apply for the exam, candidate needs to clear a written test, a physical fitness test and a medical examination. For written examination, following eligibility criterions need to be accomplished.
Age: Prescribed age limit is 17-21 years.
Education: 12th class degree in science stream with Physics and Mathematics as compulsory subjects and computers and Biology as optional subjects.
Study Campus leads on the way to make the eligible applicants of the country capable enough to make a bright future ahead.