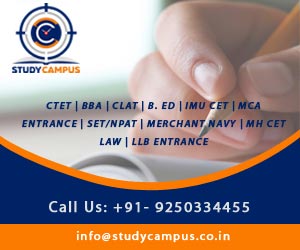 ACHIEVE YOUR DREAM RANK WITH THE ACE GUIDANCE OF MPSC COACHING IN BORIVALI
Classifying for the much coveted MPSC exam is no cakewalk. It demands the right amount of hard work, dedication and skill. In this endeavor, our heritage institute of STUYDY CAMPUS has set up the most scientific and result oriented program to lead our students to success.
AN INSIGHT INTO THE MPSC EXAM:
MPSC is the administrative body of the Maharashtra government. It is vested with the power to hold the respective state's civil service exam, appointing staff members to different posts of the state government like deputy collector class I, district inspector, etc.
CAREER SCOPE:
MPSC opens up the flood gate of job opportunities to its candidates. Starting from the post of a Talukdar Inspector of Land Records to a post as high as that of the Deputy Chief Executive Officer, it offers a variety of job roles to be performed.
ABOUT OUR INSTITUTE:
At our coaching institute of STUDY CAMPUS, we take the pride to behold the top position in imparting quality guidance to our students. Our MPSC classes has the most competent tutorials that ensure our students unflinching success in the competitive.
Students from different parts of Mumbai are enrolled with us. Areas like Kandivali east and west, charkop gaon etc. fall in this list.
MPSC Exam Eligibility Criteria:
Nationality: Candidate must be the citizen of India and domiciled in the State of Maharashtra.
Age: The minimum age for candidates appearing for an MPSC exam is 18 years, the maximum age is 33 years. The maximum age is relaxed able for OBC candidates (max. 35yrs.) and SC/ST/NT candidates (max. 38yrs.).
Educational Qualifications: Candidate should possess a Bachelor's Degree from a recognized University; however, the candidate with a law degree may be given preference. Students in their final year of graduation can also appear for the MPSC exam.
No of Attempts: There is no Limit; a candidate can appear any number of times.
MPSC Exam Pattern:
It consists of 2 papers, and the duration of both the papers is 2 hours. Candidate can get MPSC Preliminary Exam Pattern from the below table:
Paper
Time Duration
Marks
PaperType
Paper 1
Paper 2
2 Hours each
200 Marks for each
Objective
Main Exam Pattern
Paper
Marks
Paper type
GS Paper 1 (History and Geography)
150 Marks for each Paper
Objective
GS Paper 2 (Indian Constitution and Politics)
GS Paper 3 (Human Resource Development and Human Rights)
GS Paper 4 (Economics and Science & Technology)
Compulsory Marathi
Compulsory English
100 Marks for each Paper
Descriptive
Total 800 Marks
MPSC Selection Procedure:
The combined competitive examination comprises the following successive stages:
State Services Preliminary Examination (Objective type) for selection of candidates for Main Examination, and
State Services Main Examination (Objective type) for selection of candidates for the various categories of services and posts.
Interview
Our Advantage for MPSC Exam Preparation:
Focus on the current affairs
Experienced and expert faculty
Doubt Clearing Session
Study Material provide
Personal Attention