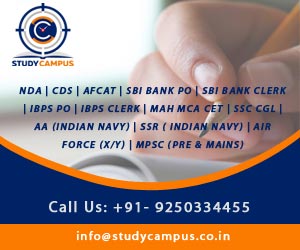 Welcome to Study Campus new, the premier institute of learning that delivers high quality career coaching for various types of competitive and entrance exams. We offer Air Force X Group and Y Group coaching classes in Mumbai and aid the aspiring candidates in acquiring a reputed yet challenging career profile in the Indian Air Force department.
Our coaching tutorial is designed in the manner to give the students an interactive learning platform mated with the guidance honored by highly experienced faculty and well-researched study material that encompasses a whole new world of opportunities to the aspiring candidates in the Indian Air Force.
Our features:
We follow a strategically designed teaching method that will depart a complete know-how of the coaching program.
Our coaching program is entitled to bring assured results for the dedicated individuals who are dedicated enough in doing something for the Nation.
We ensure complete coverage of the syllabus within the stipulated time frame.
We do follow a detailed analysis of the performance made by the student during the mock test to encounter the areas of the improvement of the candidate.
Apply for Air Force X Group and Y Group:
Those who are brave and fearless will find the Air Force academy as the best choice in terms of making a great career move. Apart from the flying job profiles, Air Force does offer some technical ground jobs divided as X Group (Technical field) and Y Group (Medical field). Applicants interested in making a bright future can apply in these groups following the eligibility criteria of both.
Age: Prescribed age limit for both is 21 years.
Required education: Both the groups ask for 12th class clearance made through 50% marks with compulsory subjects like physics, mathematics, English.
Study Campus is indulged in offering quality education guidance to the candidates looking after to make a bright future in the Air Force.