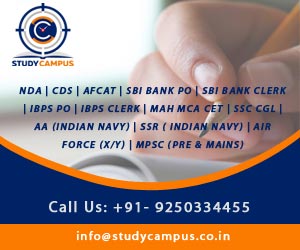 Welcome to
Study Campus
, the premier establishment of learning that delivers out-of-the-box career coaching aptitude to the applicants preparing for various competitive examinations. We offer the SBI bank clerk coaching classes in Mumbai and guide the aspirants throughout their learning program of becoming dedicated personnel of SBI.
We bring the high quality and interactive study material within the reach of students through our best SBI bank clerk coaching institute in Mumbai. We bring the effective learning environment with the help of learned faculty members.
What is SBI bank clerk?
State Bank of India (SBI) is the oldest and the leading bank of Indian Government that ranks on the top position in terms of holding highest number of branches in the country. To counter the regular operations of banking related to accounting and other paper work, bank conducts an entrance examination for the interested applicants. The post of SBI bank clerk is open for the interested applicants who want to explore new horizons in their career through the gateway of the largest bank of the country.
Eligibility Criteria for SBI bank clerk:
Candidates who want to take entry into the country's banking system through the largest bank of the country must accompany the following eligibility criteria:
Age:
Lower Age Limit: Candidates must not be aged below 20 years
Upper Age Limit: Candidates must not be aged above 28 years
Education:
Graduation in any discipline from a recognised University or any equivalent qualification recognised as such by the Central Government.
There is no definite percentage criteria defined by SBI to apply for this clerical Cadre post.It means the candidate with any percentage in graduation can apply for this exam.
The candidates which are having integrated dual degree certification must ensure that the date of passing.
Nationality:
The candidates must be either a
Citizen of India or
A subject of Nepal or
A subject of Bhutan or
A Tibetan Refugee who came over to India before 1st January 1962 with the intention of permanently settling in India or
A person of Indian origin who has migrated from Pakistan, Burma, Sri Lanka, East African countries of Kenya, Uganda, the United Republic of Tanzania
Migrated students need to read the details provided by SBI through the brochure.
Join SBI Clerk Coaching Powered by Study Campus in 3 different location in Mumbai, such as: Andheri, Borivali and Thane for 100% success. Join our Classrooms or Online Top SBI Bank Coaching Classes in Mumbai City (Maharashtra).