Achieve your goals with the best of AILET Coaching in Delhi, Munirka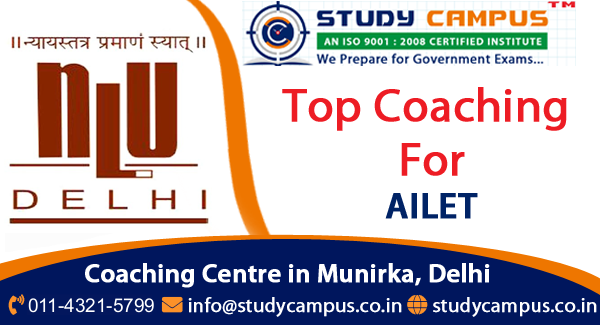 Law has been that one promising career paths of all time that has been offering its candidates the best of all worlds. However, the path to achieve this does not take the easy way!
A candidate has to go through rigorous study and hard work to qualify into the entrances of some of the most intricate exams like that of AILET. AT STUDY CAMPUS, we make this whole process of preparation simple, systematic and most importantly conducive of results for each of our students.
Our prestigious coaching institute holds the pride of having the highest success rates in the exam of AILET since some years in a row.
Now, our coaching classes with our bunch of highly experienced and resourceful teachers have come to extend our excellence of AILET Coaching in Delhi near Munirka.
LOOKING CLOSER INTO THE EXAM:
Conducted by the National Law University, the examination of AILET or All India Law Entrance Test is conducted every year throughout the nation for the selection of the best of 81 candidates in the 5-year integrated law programme of B.A. L.L.B.
Thus, you may have till now, have understood what the level of competition is to make your mark in this coveted exam.
Factors that can keep you at the top:
Guidance and mentorship is something that is completely priceless when you have to crack the AILET. Some expert advice and mentorship can always help you to combat and assess your weak points better and streamline your strengths.
Time management plays a key role in securing your position in the test.
Comprehensive study of English and General Studies will always leverage your position.
WHY WE STAND AS THE PEOPLE'S CHOICE?
When it comes to excellence, we only settle for best.
We have the prestigious title of being one of the best Coaching Classes for AILET in Delhi, Munirka.
Our tutorial facilitates one of the best learning aids with highly experienced teachers for faster assimilation.
Multiple and frequent test series both offline and online with doubt clearing sessions.
360o curriculum with scientifically created modules.
Students from all-over South Delhi like Hauz Khas, RK Puram, Ber Sarai, have already kick- started their journey to success with us. It's time to get yours on the roll!
AILET Coaching Centre Delhi (Munirka)
F-92, Second Floor, Hanuman Market,
Near Royal Bakery
Munirka, New Delhi 110067
Mobile No. - 8920-180-477
Phone No. - 011-43215799